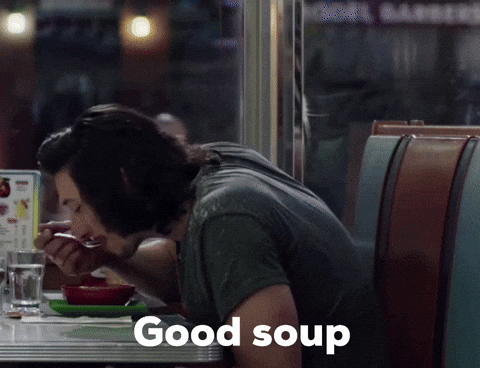 I have never felt being 30 more deeply than this moment; but I am compelled to write about my newfound passion for soup.
I'm not talking about a tin of Campbell's or a microwaved tub of Cully & Sully, although they have served me well over the years. No, I'm talking about making soup from scratch; the glorious satisfaction of turning a couple of vegetables into a comforting liquid flavour bomb, like some some of kitchen wizard. I really am trying to make soup exciting, amn't I?! Here are the most delicious recipes I've made recently, and will continue to make again and again.
Potato, parsley and thyme soup, by Rachel Allen
Delectably creamy, and packed with flavour from the herbs, this is so.damn.good whether it's blended smooth or left slightly chunky. The star of the show is crispy chorizo drizzled on top, and I added some toasted hazelnuts too, because why not?!
Same, but different. This one entails blending bacon along with the veg, which as you can imagine produces cooking smells that could be bottled and branded as 'heaven'. I like to make some extra bacon in the air fryer to place on top, along with some crispy croutons.
It's a classic combo. The perfect pairing. Just like the only side you can serve up with this soup; grilled cheese. Crunchy sourdough bread with oozing hot cheddar, dunked relentlessly into this rich soup with a hint of sweetness....need I say more.
Roasted red pepper and tomato soup
Again, very similar to the last recipe, but this one involves roasting the veg in the oven first. It's such a fresh flavour, and similar to Nigella's version, I like to add a bit of a kick with some fresh chili. And way more garlic than advised.
This is just a hug in a bowl: an incredible broth and noodles with roasted chicken, pak choi, scallions and soft boiled eggs. I left out the mushrooms, and I also advise adding some pickled red onions (make them yourself by adding the juice of a lime to a container of a chopped red onion, and some salt) as well as sweetcorn.
If you think this will lack flavour...wrong! This is spiced up with chili and fresh rosemary, and it is YUMMY. If you want to jazz it up even more, swirl in some crème fraîche and crumble a little feta on top.
If you've any soup recipes that I HAVE to try - let me know in the box below!